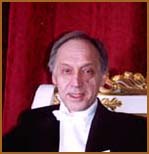 Pavel Egorov
Pavel Egorov graduated from the Tchaikovsky Moscow State Conservatory in 1975 where he studied under Professors Tatjana Nikolaeva and Vera Gornostaeva. In 1974 he won Grand Prize and Gold Medal at the International Schumann Competition in Zwickau, Germany. Since 1976 pianist lives and works in St. Petersburg, successfully combining teaching and intense concert activity, both in Russia and abroad. In 1980, after finishing post-graduate studies, he was invited to teach at the St. Petersburg Rimsky-Korsakov Conservatory, where he is currently working as a Professor of Department of Special Piano. Among his pupils – Andrei Nikolsky (Winner of First Prize of Queen Elizabeth Competition in Brussels), Sergei Pashkevich (Winner of First Prize of Liszt Competition in Utrecht), Olga Radvilovich (Winner of First Prize of Rubinstein Competition in Paris), winners of various international competitions Inga Dzekzer, Dmitry Efimov, Alexander Selitser, Elena Lebedeva. For the last several years Professor Egorov is actively engaged in teaching at the Special Musical School - Lyceum at the St. Petersburg Conservatory.
Pavel Egorov is an Honored Artist of Russian Federation, an Honorary Member of the International Schumann Society, Dusseldorf, Germany and an Honorary Member of the St. Petersburg's Philharmonic Society. In 1989 Mr. Egorov was awarded the International Schumann Prize for his contribution in studying and performing of music by this composer. Pavel Egorov is also a Co-Chair of St. Petersburg Frederic Chopin Society.
Pianist Pavel Egorov continues to be in demand in Russia and abroad. He has toured in Holland, Germany, Belgium, Sweden, Denmark, Italy, Canada, Poland, Bulgaria, Romania, Yugoslavia, China, Taiwan, Japan and Republic of Korea. During his career he has performed in more than 3000 solo, symphonic and chamber concerts. He appears regularly in the Grand Hall of St. Petersburg's Philharmony and in the Grand Hall of the Moscow Conservatory. Since 1993 he appears annually in Rome, Italy, most recently in September 2002. In March 2003 he made his North American debut in Vancouver, British Columbia, Canada, by the invitation from Vancouver Chopin Society. In March - April 2003 Pavel Egorov toured in British Columbia with 5 solo recitals.
Professor Egorov repeatedly worked as the judge every possible the international and national competitions of pianists (Schumann's name in Zwickau, Tchaikovsky's name youthful, "Virtuosos 2000", "the Step to Parnassus", etc.), and with 1989 "the Brother and the sister" (S-Petersburg) heads jury of annual International competition piano duets. Constantly acts with lectures and open lessons in musical institutions of Petersburg and other cities of Russia.
Pavel Egorov has conducted open lessons and master-classes in Germany, Holland, Belgium, Sweden and Taiwan. He is conducting annual master-classes "La Scuola Russia" in Rome, Italy since 1993. He was a visiting professor of Keimyung University of Taegu, South Korea in 1996-1998. In 2002 and 2003 he conducted master-classes in Canada.
Professor Egorov regularly works as a judge at the international and national piano competitions (Schumann Competition in Zwickau, Tchaikovsky Young Pianists Competition, "Virtuosos 2000", "The Step to Parnassus", etc.), since 1989 heads jury of Annual International Competition of piano duets "Brother and sister" (S-Petersburg). Pavel Egorov is the organizer and art director of chamber music festivals "Schumann's evenings" and "Days of Brahms in Petersburg" conducted at the St. Petersburg Philharmonic Society with participation of well-known Russian and international musicians.
Pavel Egorov is an active music scholar. He is a scientific editor of the 7-volume first Russian edition of Schumann's complete piano works, Muzyka, Leningrad, 1986. He is also a scientific editor of first Russian urtext edition of Well Tempered Clavier by J.S. Bach, "Lan'" Publishing, St.Petersburg, 2001, and a scientific editor of complete set of Beethoven's piano sonatas, Lan', St.Petersburg, 2003.
Pianist Egorov's extensive repertoire includes music of different epoch and genres. He has performed symphonic programs with many outstanding conductors, including Maxim Shostakovich, Vladimir Fedoseev, Kirill Kondrashin, Veronica Dudarova, Valery Rayevsky, Ravil Martynov, Vakhtang Zhordania, Cesare Croci and others. He recorded more than 50 programs of solo, chamber and orchestra performances on CDs, including music by Bach, Haydn, Mozart, Beethoven, Schubert, Brahms, Schumann, Clara Wieck-Schumann, Chopin, Scryabin, Mussorgsky, Tchaikovsky, Rachmaninoff, Prokofiev, and Sviridov, for many international and Russian labels such as Melodiya, Sony, Columbia, Intermusica, etc.

go back

go top

go home

russian version