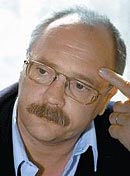 Mr. Bortko, Vladimir Vladimirovich
The scriptwriter, actor, producer.
Mr. Bortko was born on 7th of May of 1946 in Moscow. Graduated from Kiev's State Geological Institute in1965. During (1965-1966) has served in the Military, worked as an electrician in Kiev (1966-1969). In 1974 has successfully completed secondary education in the Performance College, called KGITI. Later on we see him working as an assistant producer for the Dovzhenko film Studios, and starting 1980 - in the famous LenFilm Studios as an independent movie producer.
His debut movie was "The Investigation Commission", which appeared nationwide in 1978, starring Oleg Efremov, Irina Miroshnichenko, Eugena Lebedeva.
Recognition has come to Vladimir Bortko right after his comedy movie "The Blonde behind a corner" was released, in which the producer has invited famous movie starts like Andrey Mironov and Tatyana Dogileva. In the middle of 80s there came two more movies, which had totally won over the audience's love - psychological drama " Once having told a lie... ", and the screen version of a tale by Michael Bulgakov - " the Dog's heart ". This film has been awarded with Grand Prix in a movie festival in Perudge.
In 1991 came yet another movie - military drama " The Afghani Break " with the Italian movie star Michele Placido who was popular in the Soviet Union at the time.
In 1998 the director has pleased spectators with the new work - movie " The Circus has burned down, and clowns have ran out...".
Filmography:
1978 Investigation Commission
1980 My dad is the idealist
1983 Blonde behind the corner
1984 Without family
1986 The Voice
1987 Once having told a lie
1988 Dog's Heart
1991 Afghani Break
1992 Good luck, Gentlemen!
2000 Gangs in St-Petersburg
Mr. Bortko is happily married. His wife - Natalia is also a scriptwriter. They have a son who is a post graduate student.

go back

go top

go home

russian version